- N.Y.S.A.N. UPDATED 2016 -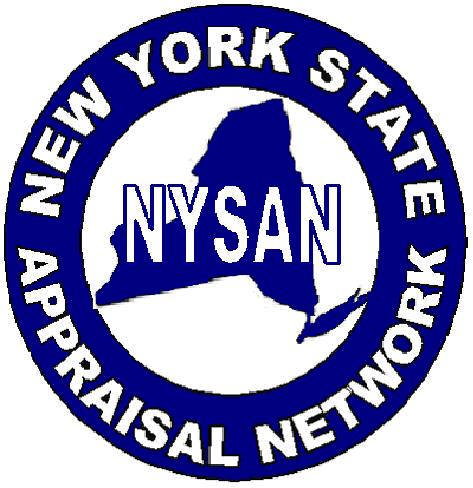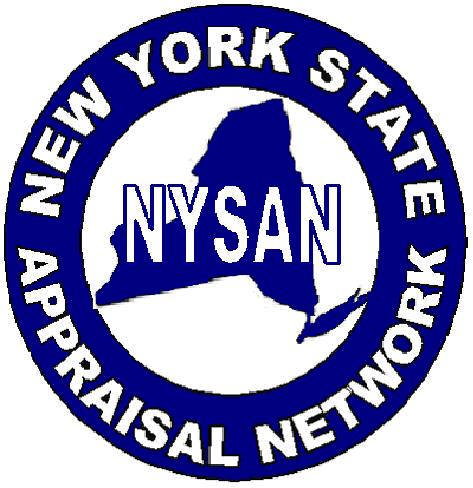 N.Y.S.A.N. "New York State Appraisal Network"
www.newyorkstateappraisalnetwork.com nysanamc@gmail.com
A Better Way To Protect The Appraisal Process !
1461-17 LAKELAND AVE., BOHEMIA, NY 11716 ~ 631-567-6776 ~ FAX: 631-563-7719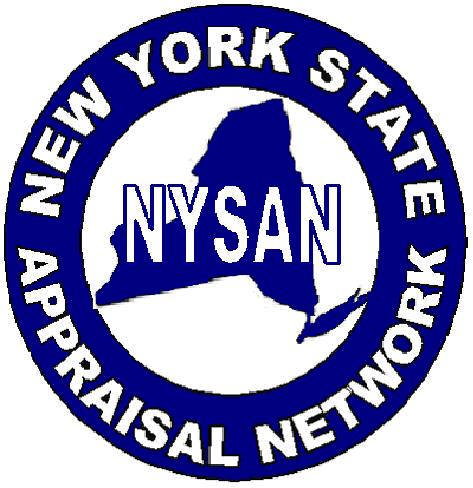 NYSAN's Official E-Mail is: nysanamc@gmail.com This is the official e-mail to send NYSAN the certified appraisal, for each ordered appraisal. We require the appraiser to contact us daily to give us a status update. Under USPAP guidelines, we order the appraisal, and all communication must be coordinated through NYSAN. In the event the appraiser contacts the lender/mortgage broker directly, the appraiser would be in violation of HVCC Guidelines/ now known as Dodd Frank. The appraiser is not permitted to discuss the appraised value with the lender. As per HVCC guidelines/ now known as Dodd-Frank , Appraisers must contact NYSAN, and NYSAN will communicate with the lender regarding the transaction. NYSAN will then contact the appraiser.
NYSAN Appraisers agree to comply with all older HVCC regulations/now Dodd-Frank Regulations. The Appraiser receives the order from NYSAN, not the lender. The lender may be the client, but the appraisal report must be returned to NYSAN. This guarantees that the appraisal cannot be altered and that it meets Dodd-Frank guidelines. The Appraiser must also attach the paragraph disclosure that Dodd-Frank and HVCC guidelines have been met. Refer to your NYSAN contract. We have the paragraph clearly posted in our web site. All Appraisers should keep up-to-date and read and review all documents to make sure that all appraisals are compliant with State and Federal Guidelines. If you have any questions, please call us at 631-567-6776 or 631-563-7720.
Bill C. Merrell, Ph.D.- E-Mail for correspondence is: drmerrell@optonline.net
Direct N.Y.S.A.N. E-Mail for correspondence and Appraisals nysanamc@gmail.com
Fax number- All appraisers must have a compatible fax number for NYSAN orders 631-563-7719 is our fax number
CLICK ON THE APPROPRIATE LINK BELOW

NYSAN Membership - APPRAISAL MEMBERSHIP ROSTER Updated and available to lenders/clients

NYSAN Member Policies and Procedures-All Appraisers must read ! Updated !

If you want to enroll in NYSAN, Click on the links below

New York State Education for Appraisers:

Additional Informational Links:

AIR- Appraisal Independence Regulations- FNMA-FHA-FHLMC
---
We are seeking Appraisers who want to join the NYSAN Ranks

NYSAN will operate in a New York Appraisal Management Company framework, and assign appraisals to NYSAN Affiliated Appraisers from users of appraisal services.

Users may include Lenders, Mortgage Brokers, Mortgage Bankers and Loan Officers.

The Client who is ordering the Appraisal will not pre-determine the outcome.

Appraisers will determine and be an advocate for the value, not a rubber stamp for a client.

NYSAN will certify that we (NYSAN) received the order, assigned the order, and that the client did not order the appraisal directly to the appraiser. This will minimize any pressure on the appraiser to achieve a value, which would be a violation of USPAP. A letter stating this will be presented to client with each order.

The appraisal was not contingent upon a pre-determined value, as stated above.

Payment is made at the time of the inspection. The payment is not contingent on a value.

The fee to the Client (Lender, Loan Officer, Mortgage Broker or Mortgage Banker) is Free. The client agrees not to request contingent appraisals and to put into effect all steps necessary to make sure the final value achieved is not pre-determined by anyone. The Appraisal. itself will determine the Fair Market Value, as of a specific date for a specific purpose.

We find, we must limit the number of individual appraisers to approx.100-125 in NYS. This way, we can focus our energies on a viable, high quality management concept, in which appraisers affiliated with NYSAN are assigned appraisal orders as they are ordered via the NYSAN Appraisal Management Companies Network System.

Questions? Call us at 631-563-7720 or 631-567-6776
www.NewYorkStateAppraisalNetwork.com
NYSAN E-mail: nysanamc@gmail.com
---
All Members send e-mails correspondence to drmerrell@optonline.net Bill Merrell- NYSAN's Executive Director.
Appraisals are to be sent to nysanamc@gmail.com To: NYSAN,
You list the lender (and,or its assigns) as the client on the appraisal. On an addendum, you must state the following:
NYSAN, New York State Appraisal Network has ordered this assignment.

The order originated from the lender/client and was sent to NYSAN, NYSAN has sent it to an approved NYSAN Appraiser. This meets or exceeds Dodd Frank Regulations for Appraisers, Lenders and the Appraisal Management Firm.

The Appraiser will not directly communicate with the lender/client regarding this appraisal IN DODD FRANK compliance. All conversations and communication is to be with NYSAN Directly.

THIS MEETS DODD FRANK REGULATIONS AND I, AS THE APPRAISER OF RECORD WILL MEET OR EXCEED DODD- FRANK REGULATIONS
We now have over 25,000 gig's of storage to keep copies of each and every appraisal through
N.Y.S.A.N.- New York State Appraisal Network, 1461-17 Lakeland Ave, Bohemia, NY 11716 631-567-6776
We also create hard copies of appraisal assignment as required to meet proposed regulations in NYS
---