New York State Appraisal Network
N.Y.S.A.N.
New York State Appraisal Network
Care of: Merrell Institute
1461-16 Lakeland Ave, Bohemia, NY 11716
631-567-6776
Application to join N.Y.S.A.N. voluntarily If you are a New York State Certified Appraiser, you are eligible to join the New York State Appraisal Network. Call us at 631-567-6776 or sign up with above link.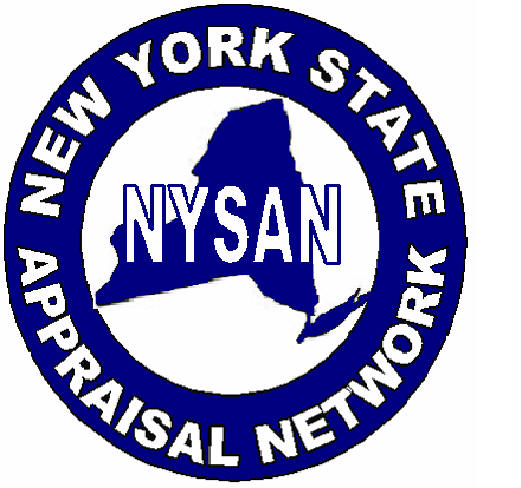 Each NYSAN Appraiser must meet the following criteria:
Valid NYS Certified Appraiser-Certified Residential or Certified General

Documentation and Certification of Up-To-Date Continuing Education

An Existing and Up-To-Date Errors and Omission Insurance Policy
We do not perform a field review for each appraisal. Each appraiser is responsible to perform each appraisal to NYS, USPAP and FNMA/FHLMC Guidelines. The Appraiser issues and certifies the appraisal directly to the lender/mortgage broker/loan officer. The original order will determine the exact name of the firm the appraisal must be certified the appraisal to.
If there is a complaint from the lender, and it is substantiated, the lender will provide said documents to NYSAN, and we will investigate complaint, and where appropriate, terminate the appraiser from NYSAN's AMC approved list of appraisers.
The assignment is not contingent upon a pre-determined or minimum value, which would be a USPAP violation.
With the realization that appraisals and the ordering process will change drastically effective 1-1-09, NYSAN is taking a major role in assisting appraisers to remain independent, and allowing loan officers and mortgage brokers to order appraisals through NYSAN. NYSAN will then submit the order to a NYSAN Independent Appraiser.
NYSAN offers a professional service, with a personal touch. NYSAN is not a national clearinghouse. We are a New York State appraisal management company servicing New York State. We have appraisers in all the major regional areas of New York State, throughout the 62 counties of New York State.
Appraisers who want more information should contact us at 631-567-6776 or e-mail us at nysanamc@gmail.com
Loan Officers and Mortgage Brokers should contact us at 631-567-6776 or e-mail us at nysanamc@gmail.com
There is no fee for a Mortgage Broker or Loan Officer to use our service and order appraisals. Appraisal fees are paid to NYSAN and NYSAN then remits payment, minus NYSAN fee to appraiser. NYSAN is not responsible to pay appraiser until NYSAN is paid by client-lender.
Appraisers must register to participate in NYSAN AMC services.
take me back to: www.newyorkstateappraisalnetwork.com
e-mail for NYSAN: nysanamc@gmail.com