New York State Appraiser Digest 2009
12 YEARS ON THE NET!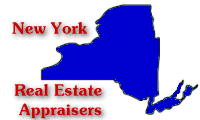 12 YEARS ON THE NET!
In 2001, 2002 and 2003, when the Appraisal Industry was out of control, and business was overwhelming, we had offered our Internet Edition of the Appraiser Digest. We received a great deal of interest and a number of appraisers from throughout the state enrolled. The Digest was mailed to over 1000 users of Appraisal Services, including Direct Lenders, Larger Mortgage Brokerage Firms, Attorneys, Accountants and Management firms. The response was good, but due to the large volume of business, it was difficult to track how well The Digest "Got the Word Out!"
2004, 2005,2006 and the August 2007 Digest is created under the same guidelines, however the appraisal market has changed. The appraisal flow of business has leveled off in 2006 and many appraisers are actively seeking new clients to increase and maintain their workload.
2008 and 2009, business has slowed. This year's Appraiser Digest (2009) is designed to make a difference to those who participate. The Digest will get their name out to users of appraisal services, it will announce their appraisal expertise, it will list their address, phone, fax number, e-mail address and even their web site (if the appraiser has one).
The Site will be listed in alphabetical order based upon the company name. This year, 2009, we will request participants to give us their License/Certification # and expiration date and Error and Omission Insurance Information, Insurance Policy #. No one can guarantee you success in this field. We can make sure that 1000+ Digests will be mailed to users of Appraisal Services and your information will be placed on the well known web site, www.newyorkstateappraiser.com the exclusive web site for participants of the New York State Appraiser Digest
To Enroll in the Appraiser Digest, Click here [X]
or call 631-567-6776 for a enrollment application