This Entire Program in 2020
Only Take Courses with an Official "L" Letter attached to the NYS Course code
Entire 24 Hour Continuing Education Discounted to
$ 500.00 Complete! TAKE ONLY APPROVED CLASSES IN NYS
Home Inspection Continuing Education
As per ASHI (American Society of Home Inspectors) With Licensed Training
Start A Career in Home Inspection- You could Average $ 76,000 Annually!
~ MERRELL INSTITUTE ~ APPRAISAL EDUCATION NETWORK SCHOOL ~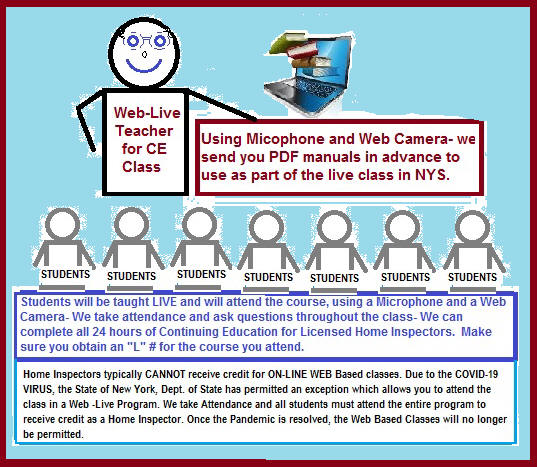 2020 SCHEDULE-All 24 hours! Home Inspection 24 HOURS Continuing Education!
24 Hour Home Inspection Energy-Environmental Program including 3 Hour SOP/COE Regulatory Class
All 24 hours "Thursday, Friday & Saturday" $ 500 for Home Inspector Continuing Education !
(Energy-Environmental Program and SOP/COE Class-24 hours total)
No on-line classes are accepted for NYS Home Inspection Continuing Education Credit- You must attend a classroom course-No exceptions in NYS
EXCEPT, we have been given permission to offer the program as a LIVE VIRTUAL CLASS which requires you have internet access, a computer, a web camera and microphone. The classes will be live, but on line and we will limit each class to 8 students per class. Sign up asap to guarantee your seat in these online classes- attendance is mandatory and will be collected throughout the class.
If you need tutoring to understand how to log on to the program, we charge $ 50.00 and you will be given a personal one on one walk through to be able to sign in and out of the class so you receive ce credit for Home Inspecting in NY State. All 24 hours of credit!
ALL 24 Hours REQUIRED ! Sign Up Today: 631-563-7720
We offer NYS APPROVED Continuing Education for Home Inspectors in NYS !
ON-LINE HOME INSPECTION COURSES ARE NOT APPROVED IN New York State EVEN IF THE COURSE IS
TAKEN OUT-OF-STATE. THERE ARE NO EXCEPTIONS TO THIS. NYS Is Verifying All CE Courses !
~ BILL C. MERRELL, Ph.D., School Director/Founder- Certified Home Inspection Professor~
1461-16 Lakeland Ave., Bohemia, NY 11716 ~ PHONE: 631-563-7720 ~ FAX: 631-563-7719
HOME INSPECTORS ARE REQUIRED TO ATTEND 24 HOURS OF APPROVED HOME INSPECTION CONTINUING EDUCATION (Signified with an "L" Approval Code) BEFORE YOU RENEW YOUR LICENSE. THERE ARE NO EXCEPTIONS TO THIS MANDATORY REGULATION. ONLY APPROVED CLASSROOM COURSES ARE PERMITTED. ON-LINE CLASSES ARE NOT ACCEPTED FOR HOME INSPECTION CREDIT IN New York State.
NYS HOME INSPECTOR CONTINUING EDUCATION-Both Classes $ 500.00
ALL 24 hours FOR ONLY $ 500.00- Materials included!
NYS HOME INSPECTION CONTINUING EDUCATION 631-563-7720
------------------------------------------------------------------------------------------------------------------------------------
HEALTHY HOME-ENERGY EFFICIENCY/ENVIRONMENTAL SAFETY $ 500.00 21 HOURS
21 Hours L0382 8-5:00PM(Day 1); 8-5:00PM(Day 2) 8-11AM(Day 3) $ 500 Student Discount Rate INCLUDING 2ND COURSE TO EQUAL 24 APPROVED HOURS IN NYS!
A Certificate based course in which we will discuss with our students the many areas of affordable energy and environmental considerations associated with each type of energy course. Further we will present Healthy Home Materials published by the US Dept. of HUD (US Dept. of Housing and Urban Development –the agency the controls FHA Transactions in the USA). Other manuals include the Phase 1 ASTM Guidelines and all the components of Phase 1, 2, 3 and 4 Guidelines. Now that Mold Inspecting and Assessments are now licensed by the Dept. of Labor (OSHA People) we will discuss this as to getting a Mold Assessment License in NYS, for those interested in inspecting Mold in residential and non-residential homes throughout New York State. The Mold Course is a separate 32 hour course which has a final examination in order to receive your Mold Certificate which will allow you to apply for licensure as a Mold Assessor in NYS. We will go over all different types of Energy, and how long items last in a home and when to consider a home as exceeded it useful life. A great class to complete for 24 hours of continuing education in NYS.
Report Writing & Components of a Home; NYS APPROVED HOME INSPECTION CE CLASS
Free with 24 Hour Package Plan ~ 3 Hours- ALONE $ 125.00
11AM to 2PM $125.00-Student Discount Rate-FREE IF TAKING BOTH CLASSES-ALL 24 HOURS!
NYS 3 HOUR CONTINUING EDUCATION CLASS TO MEET ALL 24 HOURS OF CONTINUING EDUCATION TOWARDS YOUR HOME INSPECTION CE REQUIREMENTS. REPORT WRITING. LIMITING LIABILITY. SOP AND COE DISCUSSION. CHANGES IN NYS LICENSING LAW.
BOTH APPROVED CLASSES- ALL 3 DAYS, ALL 24 HOURS- $ 500.00 PLUS MANY, MANY GIVEAWAYS!!!!
HEALTHY HOME CLASS (21 Hours) & REPORT WRITING-COMPONENTS CLASS (3 Hours)
All 24 Hours Approved by NYS, Dept. of State
PACKAGE PRICE FOR BOTH CLASSES ARE $ 500.00 COMPLETE!
MERRELL INSTITUTE ~ Appraisal Education Network School 631-563-7720
Bill C. Merrell, Ph.D.- School Director
1461-16 Lakeland Avenue, Bohemia, NY 11716
SMART BOARD TECHNOLOGY AS PART OF OUR PROGRAMS- Technology at Its Best!
"OUR EXCLUSIVE COMBO DEAL IS HERE WITH NEW BOOKS, NEW MATERIALS, NEW IDEAS......"
-----------------------------------------------------------------------------------------------------------------------------------------------------------------------------
We also Have Individual classes for those who wish to meet their 24 hours of CE requirements in NYS as follows:
TBD INFRARED –IR- CAMERA FOR HOME INSPECTORS PROGRAM TBD: 7 Hours L0229 ..............$ 175.00
9AM TO 4PM including breaks (TBD) $ 175.00 (Discount of $ 100 for our Students)
A Certificate based course to be able functionally utilizes an Infrared Camera and understanding all the uses of an Infrared Camera in the inspection of a 1-4 Family Home in New York State. Those who complete this course will receive a NYS Certificate for Continuing Education. Further, those who complete the program will receive an INFRARED CERTIFICATE from The National Professional Association, now that you have the knowledge to use an Infrared Camera and Inspect a Home using Infrared Technology. We have 5 cameras on property so students will be given the opportunity to actually touch, feel and use a camera. We will focus on the uses of a camera, and the limitations of a camera in the performance of a Home Inspection in NYS. Tuition-including Certification $ 100.00- If possible please bring your working Infrared Camera. I you are looking to purchase an Infrared Camera, we would recommend you purchase a SEEK Camera which attaches to many cell phones and costs under $ 200.00. THE BETTER THE CAMERA, THE BETTER THE PHOTO SHOTS
TBD "Allergies & the Residential Home Certificate Class" 8 HOURS.........................................................$175.00
NYS Approval:L-0925 (8 hours) 8am to 4pm THIS CLASS is APPROVED FOR CONTINUING EDUCATION CREDIT FOR HOME INSPECTORS IS 8 HOURS.
The course is a certificate program for Home Inspectors who wish to perform Allergy Inspections in New York State and learn the process the forms the role of the inspector and the benefits of an allergy inspection in New York State. A Must class for those who wish to perform ancillary services in NYS..
MERRELL INSTITUTE ~ APPRAISAL EDUCATION NETWORK SCHOOL
1461-16 LAKELAND AVE., BOHEMIA, NY 11716 BILL C. MERRELL, PH.D.- DIRECTOR 631-563-7720
WE ACCEPT CHECKS, MONEY ORDERS, VISA, MASTERCARD,, AMERICAN EXPRESS AND DISCOVER CARDS
WE SUCCESSFULLY OFFER MORE HOME INSPECTION CONTINUING EDUCATION CLASSES THAN ANY OTHER SCHOOL IN N.Y.S., WE ARE PROUD OF OUR AFFILIATION WITH MULTIPLE NATIONAL ASSOCIATIONS.

THANK YOU FOR YOUR SUPPORT AND PATRONAGE!

CALL US TO SIGN UP AT 631-563-7720
Home Inspectors in New York State require you attend continuing education BEFORE you renew your license.
SCHOOL DIRECTOR/FOUNDER: BILL C. MERRELL, Ph.D.
SCHOOL ADDRESS: Merrell Institute Facility 1461-16 LAKELAND AVE, BOHEMIA, NY 11716
PHONE: 631-563-7720 FAX: 631-563-7719
Make Checks Payable to: Appraisal Education Network School
Endorsed by www.northamericanassociationnetwork.com NAAN
www.nationalprofessionalassociation.org NPA
International Association of Certified Home Inspectors INTERNACHI
Association of Construction Inspectors ACI
Housing Inspection Foundation HIF
Environmental Assessment Association EAA
back to: www.merrellinstitute.com our main web site
Enroll in North American Association Network and receive your FREE membership benefits, go to: