75 Hour Salesperson Course in New York State
Click on this link and sign up for the $ 139.00 course
http://www.careerwebschool.com/real-estate/new-york/new-license/?partner=Merrell
75 Hour Salesperson Course in New York State
This includes typical classroom courses plus a final exam as well as on-line classes that take 75 hours to complete the class on-line and a proctored final exam at:
Merrell Institute ~Appraisal Education Network School ~ Hauppauge Real Estate School
1461-16 Lakeland Avenue, Bohemia, NY 11716 ~ Bill C. Merrell, Ph.D., School Director
631-563-7720 Fax: 631-563-7719 drmerrell@optonline.net merrelled@gmail.com
We currently have a course that costs $ 149.00 for all 75 hours of Education including the Final Exam and the certificate upon graduation.
Interested? Simply call us up or sign up right now!!!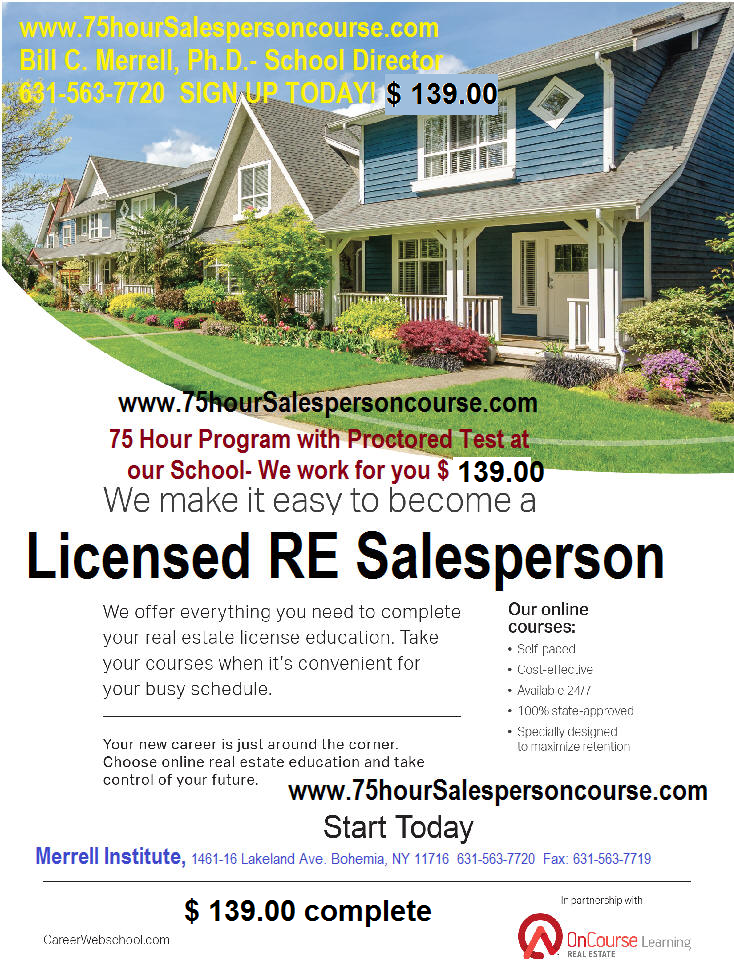 click here-below
http://www.careerwebschool.com/real-estate/new-york/new-license/?partner=Merrell
Don't Forget, we also offer Real Estate Continuing Education on line,
Further we offer Appraisal Continuing Education in NYS and throughout the Country
We also offer Licensing classes in Appraisal 154 hours towards their NYS Appraiser Assistant License
Questions? Call me at 631-563-7720 for details!
take me back to