NEW DATE-Last in 2015!
December 7th, 2015
8am to 1pm- Call 631-563-7720 to Register
$ 99.00 Pre-Registration Price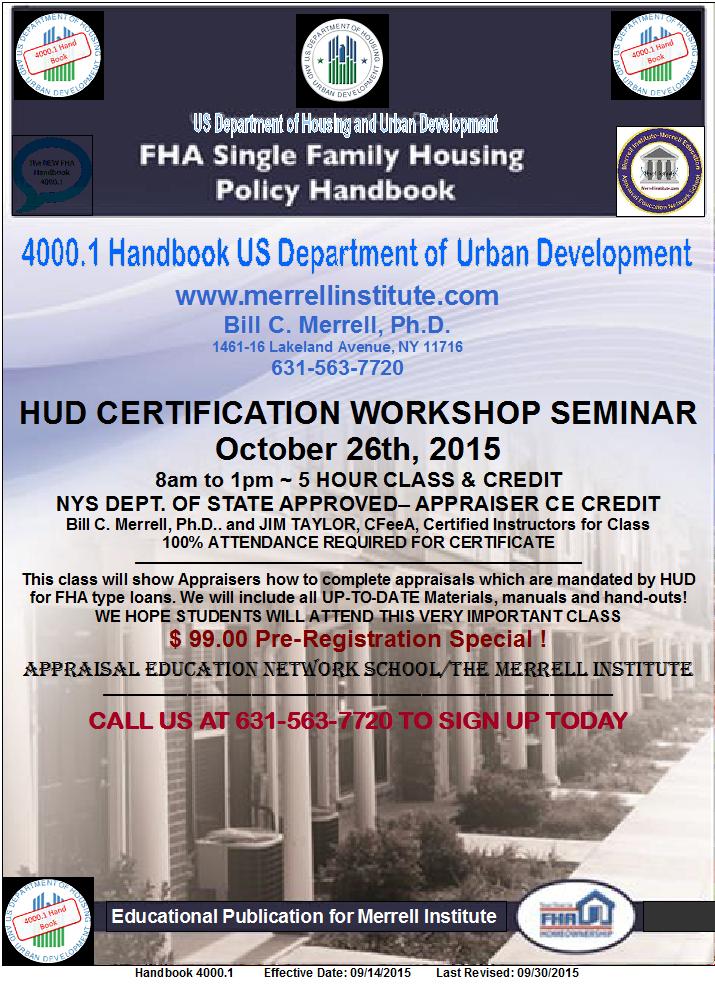 HUD CERTIFICATION WORKSHOP
5 HOUR CLASS
NYS DEPT. OF STATE APPROVED
DECEMBER 7TH, 2015
8:00AM TO 1:00PM
Bill C. Merrell, Ph.D.- School Administrator-
Bill Merrell and Jim Taylor, Certified Instructors for HUD Class
100% ATTENDANCE REQUIRED FOR CERTIFICATE
This class will show Appraisers how to complete appraisals which are mandated by HUD for FHA type loans
We will include all UP-TO-DATE Materials, manuals and hand-outs!
WE HOPE STUDENTS WILL ATTEND THIS VERY IMPORTANT CLASS
$ 99.00 pre-registration special !
Appraisal Education Network School and the Merrell Institute
1461-16 Lakeland Avenue. Bohemia, NY 11716
631-563-7720 fax: 631-563-7719