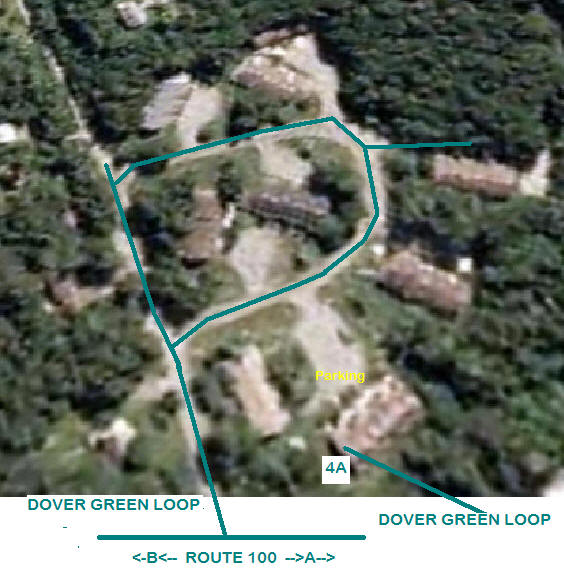 DOVER GREEN LOOP, West Dover, VT (On the Mountain)
- We own in Building 1 and Building 4 -
Mount Snow Facts ( http://www.mountsnow.com)

The Mount Snow Golf Course is one of Vermont's premier mountain courses and has been rated one of the top five in the state by Golf Digest
Mount Snow is the mountain bike capital of the East, offering lift access thru Columbus Day Weekend!

45 miles of mountain bike terrain consisting of single-track, old town roads and ski trails

Hikers can enjoy a spirited ascent with over 1,600 feet of vertical rise, or take a somewhat less aerobically intense walk on the Deerfield Valley Trail.

There are some nice Spa's and Health Clubs in the Valley

10 minutes from Lake Whittingham where you can rent boats and personal watercraft and an authentic Vermont vacation would not be complete without antiquing in the West Dover and Wilmington shops

Winter Activities: Skiing, Snowmobiling, Sledding, Snowshoeing, Fitness Center, Fishing, Horseback Riding, Shopping, Restaurants. Other ski area; Stratton Mountain 30 minutes away; Bromley 45 minutes away.
Summer Activities: Tennis, Swimming, Hiking, Biking, Golf, Boating, Sailing, Jet Skiing, Fishing, Horseback Riding, Shopping, Restaurants.
ITEMS LISTED B- MAKE RIGHT ON ROUTE 100
SITZMARK GOLF COURSE, OUTDOOR POOL, RESTAURANT, BAR, SNOW MOBILING
ROAD HOUSE RESTAURANT (FINE DINING)
MURDER MYSTERY WEEKENDS- IN AUSTIN INN- 500 FEET FROM OUR COMMUNITY
DOTS RESTAURANT- MAKE RIGHT AT LIGHT IN WILMINGTON- 2ND BLDG
SHAWS SUPERMARKET- LEFT AT LIGHT
RITE AID DRUG STORE- LEFT AT LIGHT
TRUE VALUE SUPER CENTER- LEFT AT LIGHT
ITEMS LISTED A- MAKE LEFT ON ROUTE 100
WEST DOVER FIRE DEPT AND POLICE
SMALL STORE WITH GASOLINE STATION
LARGER 7/11 AND STATE PACKAGE STORE WITH GASOLINE STATION
DOTS DINER
CHINESE RESTAURANT
MOVIE THEATRE
The SALOON- Restaurant-Bar
SKI RENTALS/ SNOW MOBILE RENTALS
GRAND SUMMIT HOTEL, RESTAURANT, BAR, SPA, POOL
PIZZA AND DELI
SKI LIFTS BY GRAND SUMMIT- ALL ON THE MOUNTAIN
FAMILY STYLE RESTAURANTS
BACK TO: www.mtsnowvermontcondo.com
OWNERS: THE MERRELL'S- 631-563-7720, 631-724-8006, 631-833-9069
------------------------------------------------------------------------------------------------------------------------------------
Restaurants/Dining Experiences while at Mt. Snow: 802 Area Code unless specified
~Call to verify they are open, reservations, family Kid Friendly, and what their Menu is~
---
The Hermitage 464-3511
Le Petit Chef 464-8437, a chef-owned French bistro in a 19th-century farmhouse
Two Tannery Road 464-2707
Doveberry Restaurant 464-5652 small and intimate with a Northern Italian menu
The Deerhill Inn and Restaurant 464-3100 in West Dover
Hennessey's 464-9361 a local steakhouse
Inn at Sawmill Farm 802-464-1130, which holds a Wine Spectator Grand Award
The White House 464-2135 is the choice for Sunday brunch
The Roadhouse 464-5017 serves steak, chicken, ribs, swordfish and trout.
Dot's of Dover 464-6476 in the Mountain Park Plaza
Dot's Restaurant, on Rte. 9 in Wilmington 464-7284
Poncho's Wreck 464-9320 serving Mexican food, steaks, lobsters and fresh fish.
Anchor Seafood 464-5616
Cafe Tannery 464-2078 offers lighter fare and does take-out
The Vermont House 464-9360 Wilmington's main street, serves good food and is one of the locals' favorites.
The Maple Leaf Brewery 464-9900 also on Main Street in Wilmington, brews 16 types of beer on-site and serves pub fare.
TC's Family Restaurant 464-9316 has inexpensive family fare
For groceries, head to Shaw's on Rte. 9 in Wilmington, east of Rte. 100.
---
Spring/Summer/Fall: Golf, Photography, Nature Walks, Hiking, Jogging/Runs, Dirt biking, Horse back riding, Carriage rides, Spring, Summer and Fall Events, plus shopping, restaurants, and a unique view/landscape of the mountain
Winter: Skiing, Snowboarding, Sledding, Winter Events, plus a great deal of activity on the mountain during the Winter season. Winter is the peak season.
---