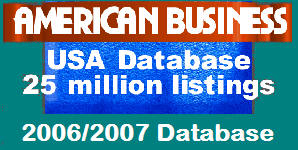 All 50 States- Approx. 25 million Business Listings $ 900.00 delivered via CD ROM
Any 1 State $ 175.00 2 States $ 300 5 States $ 650.00
Make Checks Payable to: Merrell Institute-Business Listing, PO Box 5472, Hauppauge, NY 11788
Make sure you supply us with your full name, e-mail address, snail mail address and telephone number. Please allow 10 days for delivery- We will e-mail you when delivery occurs- This will help you market businesses based upon their type of business based upon industry.
Search over 500 categories such as:

Accountants
Adoption Agencies
Adult & Continuing Education
Advertising - All
Advertising Agencies & Counselors
Aeronautical Engineers
Aerospace Industries
Agricultural Engineers
Air Conditioning & Heating
Air Conditioning Contractors & Systems
Air Freight & Package Express Service
Air Sports - Other
Aircraft
Aircraft Charter, Rental, & Leasing
Aircraft Equipment & Supplies
Aircraft Instruction

And the list goes on.........

What it contains:

-Company name
-Full mailing address
-Telephone number
-Fax number (When available)
-Industry category
The "American Business Database 2006" is now available. This database contains more than 25 million business leads.

Our fully importable database is the perfect for entrepreneurs and marketing professionals to quickly gain access to a wealth of information to start a direct marketing campaign.

The American Business Database is excellent for direct mail marketing campaigns, fax broadcasting, finding new suppliers, distributors or manufacturers for your products/services. It is also a great source of leads for sales/telemarketing campaigns.

You can freely import the text file to your favorite software such as Avery Label, Winfax, Filemaker, Act, Access, Excel, Goldmine, MS office or any other database software and spreadsheet. The files are shipped to you as deliminated text files with a separation between each section (Colon :)
Questions? Call us at 631-563-7720. This information is self explanatory!
TAKE ME BACK TO WWW.MERRELLINSTITUTE.COM